Mention Black folks and churchgoing, and regardless of your ethnic background, most people's brains come up with a sound or an image that hovers between the highly-expressive denominations of Pentecostal and Southern Baptist. Lots of fan-waving, elaborate hat-wearing, white pantyhose, satin slips, and hard candy tucked in purse crevices to quiet restless children. From the pulpit, fire-and-brimstone preaching about salvation coming someday soon. And a choir. A make a joyful noise, raise the roof from the rafters, heavenly host singing assemblage of voices that could make even the most committed sinner question the life they're living.
That's the church I see in my head most times, but that's not the church I grew up in.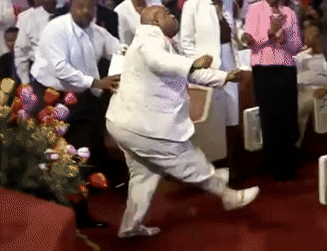 In the Chocolate City that was Washington DC in the 70s and 80s, you could find numerous examples of the church setting described above. But my family had a different agenda, even when it came to worship. God and Sonny Jesus deserved all due honor and praise, but without all of that uncivilized shouting and carrying on. The congregation at Nineteenth Street Baptist Church had been our anchor for decades, until their amazingly-gifted and classically-trained choir director Romaldo DeVeau decided that she needed a change of venue. When she traded choir lofts for the welcoming environs of Mount Zion United Methodist Church in Georgetown, my great-aunt Jean and my mother followed suit.
Mount Zion, tucked into a stately oversized lot near 29th & Dumbarton Streets, is DC's oldest Black United Methodist congregation, established in 1816. It moved into its current location in 1876 and was added to the National Register of Historic Places in 1975. That provenance held considerable sway over the feel and sound of Sunday morning worship. Sunday school, for instance, was not held prior to 11am service. It was held simultaneously, because fidgety whiny children weren't particularly welcome in the sanctuary, distracting righteous praying folks from the sermon. And the choir delivered beautiful and precisely-rendered classical arrangements of the hymns and anthems that heightened Pastor McCants' weekly message.
Beautiful and precisely-rendered classical arrangements.
No gospel music allowed.
Sometime in the late 70s, a group of younger parishioners tried to challenge this unspoken anti-gospel policy. My godsister Jan and her fiancé, who was headed to divinity school, held several private conferences with Pastor, seeking to persuade him to yield to his rural Brandywine Maryland upbringing and allow some of those rustic, rootsy sounds to make their way into our musical selections. Reluctantly, he agreed to allow them to form the church's first gospel choir, but relegated their vocal sharing to fifth Sundays.
(No, that was not a misprint.)
Gospel music could have a tentative place in Mount Zion's liturgical canon, but only about four times a year. Seasonally, perhaps. Rarely. Hardly ever.
And thus, I was among a handful of vocally-advanced children who joined forces with the determined older teens and young adults of the church to bring gospel music to the Mount Zion congregation.
Our small band of rebels may not have been very impactful in this (dare I say?) hostile environment, but what those rehearsals did give me was an open door to the work of numerous gospel artists whose songs I had only caught wisps of on local radio. James Cleveland. Andre Crouch. The Richard Smallwood Singers. And the woman who had been crowned The Queen of Soul, Aretha Franklin.
Such glorious voices, these! Choir rehearsals now began to offer me some insight into how ability begets legacy. How Aretha influenced Chaka, and the similarity I heard in their powerful delivery and expertly-crafted riffs. As my parents met, courted and married after singing together under Aunt Roma's direction (everyone in the choir was referred to as Aunt or Uncle for my entire childhood), I understood the power of music in the context of passion and love. Gospel, and its influence on what became known as soul and R&B music, provided firsthand instruction on the concept of transcendence.
I'd felt the pangs of transcendent music, even within the narrow confines of Mount Zion's classical arrangements. There was something ethereal about hearing Aunt Jesse singing the lead on "When We All Get To Heaven" in her dusky contralto, while Aunt Roma coaxed every bit of dynamic sound and emotion out of the church's grand piano and the choir's background. There was even a subversive bit of gospel swagger in the tempo of their rendition of "The Storm Is Passing Over," a defiant knowing in Aunt Roma's insistence that the word be pronounced "o-vah." That communing with The Creator in song didn't have to come with so many rules and restrictions. Gospel was an expression of freedom.
In the gospel I learned and embraced as an act of rebellion, I began to understand the interconnectedness of love of self, love of Spirit, and ultimately love of another. It would be several years before I first visited a friend's church and saw someone "getting happy in the Lord," dancing and shouting in a state of euphoria that frankly scared the Spirit right out of me momentarily. But I did understand that the sound of the choir and the band (yes, it was a Pentecostal service) worked these people into such a spiritual frenzy that their voices and bodies had to let it out somehow. That's when I understood what would lead Aretha and the rest to shout, to moan, to pause and let the silence dig in for emotional effect. Soul music was just gospel with a wider range. An expanded vocabulary.
Why the people of Mount Zion would want to distance themselves from all that feeling was beyond me. With the world continuing to question and suppress Blackness, its relevance, and its place, the last thing we need is to further regulate the way we open ourselves to Spirit, show gratitude and offer praise. Or, at the very least, find a still place where you can ask the right questions that will lead you to liberation. Of the heart. Of the mind. Of your divine, physical self.
Gospel is indeed good news. Communion. A joyful noise, and a saving grace.
Stephanie Renée, The VibeMistress of Soul Sanctuary, is a native of Washington DC, but has long ties to the city of Philadelphia from childhood, when she spent a portion of every summer with family who lived in the Wynnefield and Mt. Airy sections of the city. Over the past 16 years, Stephanie has shared her gifts on the national and international stage, and on a long list of successful recordings. Her love for the arts and a passion for education led her to several partnerships with national non-profit organizations to develop curricula in creative expression and multicultural/diversity literacy.
This article was written for WXPN'S GOSPEL ROOTS OF ROCK AND SOUL. GOSPEL ROOTS OF ROCK AND SOUL has been supported by The Pew Center for Arts & Heritage.